by Heidi Nestor, Writer and Editor, Life Alert
"DING DONG", chimed the doorbell to the Victorian House at the end of the street. Granny trotted to the door and opened it to the smiling faces of her grandchildren, all nine of them, each holding a flower. "Happy Mother's Day" came the salutations from the relative filled porch.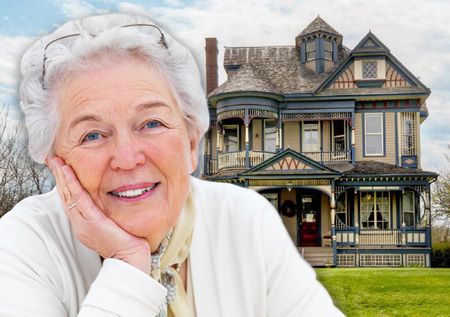 "Thank you!" She answered ushering them in. Each child gave a flower to Granny as they entered the family homestead, followed by their parents. "Oh, how lovely," Granny exclaimed over the instant bouquet growing in her hands.
Snickers, the Calico cat that resides in the Victorian home with Granny, came down from his upstairs bedroom to see what all the excitement was. The kids gathered around him and the furry resident was happy to have playmates.
After all the hugs and kisses, the family settled in at the dinner table. Before everyone arrived, Granny had taken the roast out of the oven and dinner was ready to be served. But first, Granny had to get her Mother's Day bouquet into a vase with water.
"Mom, do you need any help?" asked her daughter. She assured her that she had everything under control but she needed to go upstairs to fetch a vase in the attic . "The Attic?!" All exclaimed.
"Mom, why do keep stuff up there? There's plenty of room down here" said her eldest son. "Actually, mom," spoke Granny's youngest daughter, "This place really is too big for just you." Granny's son added, "We've been thinking that maybe you would be happier living with one of us. That way there will always be someone around to help you and things to do." Granny assured that there are people around her too as she ran down the list of neighbors that check in on her, friends who pay her visits and the activities she participates in at the senior center.
"What about all the cleaning?"
"What about all those stairs to climb?
"What about all the yard work?" The well intentioned family asked not understanding that the Victoria home wasn't just a roof over Granny's head, it was a big part of her life. It was where she raised her family, planted her garden, and housed all her memories that weren't captured as selfies on a cellphone.
"Thank you for your concern but I am fine where I am." Granny assured the group.
"What if something happens?" Asked one sibling.
"We're worried about you living alone" Said another.
Granny smiled, "I don't live alone. I have Snickers and Life Alert. If I need any help, I just push this button and, just like magic, strapping young men appear to help me. Now about that vase, I'll be right back."
Granny made her exit up the stairs with Snickers in tow. When in the hallway, she pulled the rope that hung from the ceiling and down came the ladder leading up to the attic. Granny climbed up and entered the hot, stuffy, area.
"Bam!" Came the noise behind Granny and she instantly knew that in her rush to get the vase and rejoin the family for dinner, she forgot to secure the ladder's springs so that the door wouldn't close. Granny was trapped inside the attic.
Snickers sat in the hallway looking up at the closed attic door and hearing the muffled call for "Help!" Granny tried to push on the ladder door but she was not strong enough. She even jumped on the ladder but she wasn't heavy enough to make it drop down. She yelled for help again but her house was well insulated and the attic was far from the dining room. As Granny continued to call out, her family sat at the dinner table talking and laughing without hearing any cries for help.
Granny waited a few minutes thinking that one of her children will come looking for her, but time seemed to slow down as the temperature heated up. It was getting very hot and uncomfortable in the attic so Granny shouted a few more times but to no avail. Realizing the possibility of a heat stroke arriving before her children, she pushed her Life Alert button.
A loud voice came from Granny's bedroom, "This is Life Alert. Do you have an emergency?" Puzzled, everyone ran into the bedroom saying "Hello." "We received your medical pendant signal is there an emergency or do you need help?" asked the Life Alert emergency dispatcher over the monitor. "
No everything's fine here," confirmed Granny's oldest son as he explained that the family was there visiting Granny for Mother's day.
"Is your mother there? Can you verify for me that she is okay?" The voice asked.
"Yes, she's fine." The son answered back. "She's in the att…" his words trailed off as he instantly knew something was wrong and ran to rescue Granny.
By the time Granny was freed from the attic, the local EMTs had arrived – sent by Life Alert. They checked her vitals to ensure she was ok. The family thanked them and Life Alert before sitting down for Mother's Day dinner. Granny and her family laughed about the episode and gave thanks that nothing serious happened to her. But Granny was grateful for another reason, she now had proof. "See," she said, "I don't need to move in with any of you to be safe. All of you were here and still didn't know I needed help. But Life Alert did."
"Grandma's right!" piped up the youngest granddaughter. "Grandma can live alone and not be alone because she has Snickers and Life Alert."
For more information visit www.lifealert.com or call 1-800-380-0768.
The information provided above is, to the best of our knowledge, reliable and accurate. However, while Life Alert always strives to provide true, precise and consistent information, we cannot guarantee 100 percent accuracy. Readers are encouraged to research any statements made and use any resource links provided to gather more information before drawing conclusions and making decisions.
For more information about the Life Alert system and its many benefits for seniors as well as younger adults nationwide, please visit the following websites:
http://www.lifealert.com
http://www.seniorprotection.com
http://www.911seniors.com